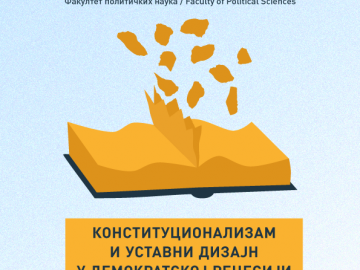 Constitutions were seen as a crucial component of democratization and conflict regulation in the last few decades. As a result, related studies in normative political theory, constitutional law, comparative politics and democratisation studies grew substantially. And yet, global democratic recession, which have confronted old and new democracies in the last few years, raises important questions about the role of constitutionalism and constitutional design in the new context.
The Serbian Political Science Association (SPSA) Annual International Conference focuses on this theme and authors with research interests in constitutionalism, constitutional design, democracy and democratization, and related areas are invited to explore its various aspects. Over 60 authors – from Serbia, several Balkan states, Western and Eastern Europe, Russia and other world regions will present their work from various theoretical and methodological perspectives in political and social science.
The SPSA conference will be held on 22-23 September in the Faculty of Political Sciences in Belgrade. Admission is free.
The SPSA 2018 Conference Programme
The Book of Abstracts